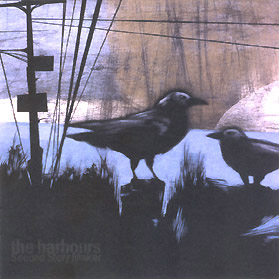 audio samples:
TRACK LISTING
1. Not the Same
2. Things You Don't Know
3. Footfall
4. Keep Your Days
5. Girl
6. Season
7. Second the Last Time Around
8. It's Not Me
9. Sick of the Electric
10. Lonelyheart
11. Living Here
(Stab City Records 2006)
$9.99 AAC/MP3 or $11.99 FLAC
MIGUEL ZELAYA - vocals, acoustic guitar, percussion, piano
BRAD TOWNE - electric guitar
CROHUR - bass, electric piano
BOB NICK - drums
with special guests:
GAVIN HAAG - drums (tracks 4, 5, 9)
NATE CAVALIERI - electric piano (track 2,10)
JOHN HOFER - drums (track 10)
JOSE ALVAREZ - marimbas (track 3)
All songs written by Miguel Zelaya
All songs arranged by The Harbours
Recorded at Catacombs, San Francisco, CA
Engineered by Jose Alvarez
Produced by Miguel Zelaya with Jose Alvarez
Mixed by Sean Coleman with Miguel Zelaya at Faux Bois, San Francisco, CA
Mastered at Golden Mastering, Ventura, CA
Cover Painting by Dennis McNulty
The Harbours' debut album due Oct. 16 on Stab City Records.
The 11-track album acts a bit like a song cycle with its tales of going home again and finding one's place in the world, but it's not the product of a grand plan.
"My influences are pretty obvious on the record," says Zelaya, who says everyone from The Beatles to The Kinks to The Zombies were reference points. "I wasn't trying to deny anything I wanted to do. The old band, while it was haphazard, we attempted to be coherent, and in trying to do that, we didn't sound coherent at all. With this, I'm trying not to sound directed—these are the 11 songs that I like the most, and I basically got my favorite musicians that I knew to play them."
Though music from the '60s has had a profound effect on Zelaya, his allegiance to the era isn't as cartoonish as some of his contemporaries. While it's true that Second Story Maker probably wouldn't exist without John, Paul, Mick, and Keith, it's just as easy to find comparisons to more recent artists like Elliott Smith, Spoon, Wilco, and Cardinal. And, perhaps most importantly, the sum of those parts is a timeless-sounding record that's subtle and intriguingly singular.